Should you buy Bitcoin (BTC) after Russia considers selling oil
Bitcoin has seen an increase in its trading volume of 12% in the last 24 hours.

Its value has also seen a massive increase throughout the past week. 

BTC has genuine potential to grow much further in value going forward.
Bitcoin (BTC) is by far one of the most dominant cryptocurrency tokens within the crypto sphere, as well as one of the most discussed tokens across many media outlets.
Its value and overall impact on the crypto industry is immense, so its recent growth back to over $44k has impacted the border crypto altcoin tokens as well.
Russia's consideration to sell oil and gas in crypto as a catalyst for growth
Russia is considering accepting Bitcoin (BTC) as a payment method for oil and gas exports in the face of the sanctions from Western countries over its invasion of Ukraine.
At the time of writing and at the time of the report, Bitcoin trades at $44K. The chair of Russia's Duma Energy committee said that Russia is willing to be more flexible with payment terms for "friendly" countries, such as China and Turkey. 
What all of this means, in other words, according to Pavel Zavalny, is that the Russian Energy Export Committee is considering various alternatives for paying for Russia's energy exports. Alongside traditional currencies, he also mentioned the Lira and the Ruble with regards to Turkey, and Bitcoin can also be traded.
Should you buy Bitcoin (BTC)?
On March 25, 2022, Bitcoin (BTC) had a value of $44,192.55.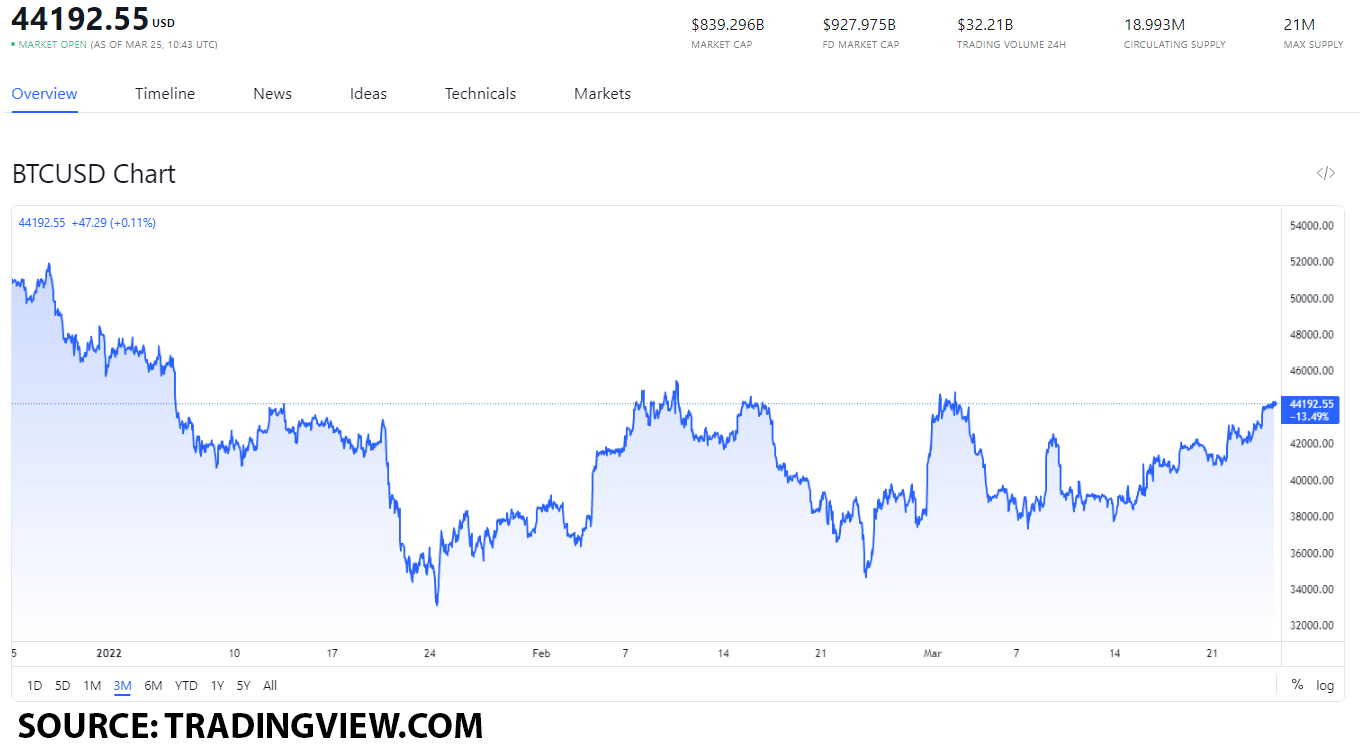 In order for us to see what this value point means for the growth of the BTC cryptocurrency token, we will be going over the token's all-time high point of value and going over the performance it showcased throughout the previous month as well.
The all-time high of the Bitcoin (BTC) cryptocurrency token was achieved on November 10, 2021, when the token reached a value of $69,044.77. This means that at its ATH, the token was higher in value by $24,852.22 or by 56%.
Bitcoin (BTC)'s performance in February was quite interesting, as the token's highest point was on February 10 when the token reached a value of $45,387.26, while its lowest point was on February 24, when the token decreased to a value of $34,750.15. 
This marked a decrease in value of 23% or by $10,637.11. However, from February 24 to March 25, BTC has increased by $9,442.4 or by 27%.
With this in mind, we can expect the value of the Bitcoin (BTC) cryptocurrency token to reach $45,000 by the end of March 2022.