Kucoin releases Into The Cryptoverse 2022 Germany Report
24% of crypto trading volume in Germany is due to staking, as investors chase the higher passive yield on offer in the crypto world, compared to traditional banks.
That's what KuCoin's 2022 Into The Cryptoverse report outlines, a study which explores crypto adoption rates in Germany. The Germany report from KuCoin is the second report– after Turkey – in a series of studies to be published throughout 2022.
German Regulation
Germany present as an interesting example given it has long had a reputatuon as one of the more progressive regimes when it comes to cryptocurrency regulation. The report cites the European state becoming "the first country in the world which (had) a clear set of rules applicable to cryptocurrencies" in 2013. While I'm not sure I'd go as far as to say it has become fully regulated, the recognition alone of bitcoins being "units of value" and getting classed as "financial instruments" as far back as 2013 was way ahead of its time, and perhaps more of a boon in retrospect that it was believed to be when it was originally announced.
Perhaps more relevant today are the tax benefits which Germany offers to crypto investors. Gains are tax-exempt after a holding period of one year, while the Fund Location Act of July 2021 enables funds to allocate up to 20% of their assets to cryptocurrencies – an initiative which has greatly streamlined the development of digital platforms and products.  
Sample
Before we assess the results, let us examine who was actually surveyed here:

A survey's sample demographic should always be inspected before analysing any report, obviously
My first read in assessing the sample was that it was heavily stacked in favour of crypto. Half of the 1,002 surveyed currently own crypto, or have at least traded it in the last six months and will continue to trade in the next six months. The other half self-identify as "crypto-curious", i.e. who are already interested in investing over the next six months.
That demographic automatically cuts out the non-believers; the sceptics whose faith in trad-fi remains absolute. So, while certain headlines declare that "44% of Germans are motivated to invest in cryptocurrencies so they can participate in the future of finance", this should really read "44% of Germans who already own crypto, or are considering it in the near-term future, want to invest so they can participate in the future of finance". See how the latter statement is a lot more measured?
Maybe I've got my statistics hat too firmly wedged on from University, as these surveys often cherry-pick a little, but in this case it needs to be pointed out. This sample is most definitely not representative of the German population at large – which is statistics 101. But that's not what KuCoin's study is trying to achieve – it's diving into the thought process that is driving crypto investment, the reasons, the factors holding the curious back, and the breakdown of the demographic. And some findings are really intriguing, so let's jump in.
Findings
Firstly, 41% of crypto investors intend to invest more over the next six months. This is actually quite high, I feel, given the nasty pullback we have seen from the salad days in Q4 last year, when Bitcoin was trading in the high $60,000s.
For those who haven't pulled the trigger yet – the "crypto-curious", as the report poetically calls them – the dip has caused a bit more hesitance, with only 23% "highly likely" to invest over the next six months. Still, for one to only be crypto-curious after the hysteric two years of money-printing, meme-pumping, up-only market action we have seen, the risk tolerance is always going to be more restrained. So, I guess it makes sense.
And for the reasons why these 77% remain on the side-lines, they are the common ones you hear banded about. The uncertainty about which cryptos to buy ranks highest at 34%, while fears about volatility, and indecision about which market signals to pay attention to, are close behind at 30% and 29% respectively. Security is always a factor in crypto, and it's no different in Germany, with 21% citing the lack of recourse for security breaches and the final 21% blaming hackers for their hesitance to click buy. Still, if this study had been conducted five years ago, those 21% figures would be a loooot higher – so it's coming down.
Time Period
Elsewhere, I thought it was interesting to assess the timeframe of when investors jumped in. 45% of those took the crypto plunge in the last six months – which, considering the all-time high was in Nov-21 at the time of the survey, means a lot of ropey bank balances, I suspect. Another 18% started within the past year, right before the previous all-time high in April 2021 – which I imagine probably means significantly less red. 
The below graph asseses how long the 501 investors have been trading, and it is pertinent reading, as perhaps it allows us to draw some conclusions about the effect of the tax exemption on gains in Germany. As discussed earlier, the capital gains avoidance kicks in after one year -and a hefty 37% have been trading for longer than a year and hence can avail of this initiative.
Demographic 
One of crypto's biggest annoyances is the gender imbalance, and unfortunately the data out of Germany backs that up here, with 68% of crypto investors male. As lopsided as this is, it's actually even worse in other countries, so I guess that's a (small) silver lining, if you're desperate to find one.
In terms of age brackets, the 18-30 sector of course makes up the bulk of both categories. 67% of investors are under 40, a hefty chunk but one that is far from surprising.

Comparing the split of the crypto investors to the crypto-curious is interesting, however. Thankfully, it paints a more optimistic note, as 53% of the crypto-curious are female. This shows that, perhaps, the industry is on the right track. In terms of age breakdown, it is similar to the crypto investor split, however.
Motives
The motives for investing were also polled, which is a fun morsel. And no, 100% didn't answer that it was just to make money – in fact, "significant returns quickly" captured only 35%. The sceptic in me wants to accuse them of lying to themselves, but maybe I should just believe the poll and stop being such a buzzkill?
The top answer was, in fact, to participate in the "future of finance". Which is actually a very bullish result, in all seriousness. For nearly half the population to cast aside monetary motives in favour of a genuine belief in the way the world is transitioning is pretty cool.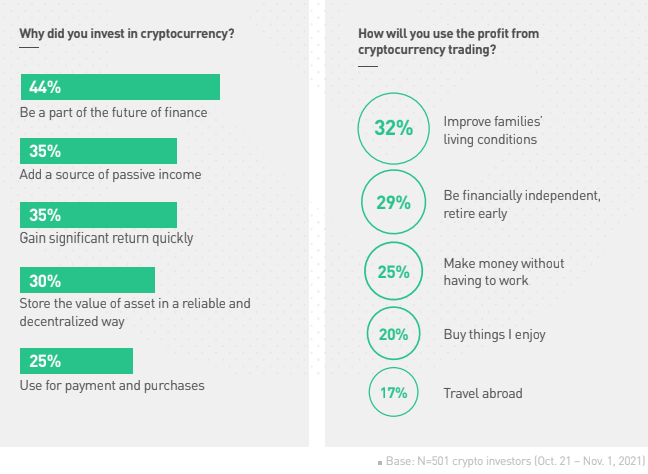 But the finding that caught my attention the most was that a whopping 35% of investors cited adding a source of passive income as a motive. The report surmises that staking is the most popular form of crypto investment in Germany, with 24% of trading volume allocated towards staking in order to earn higher yield in comparison to fiat banks. 24%! That's a healthy chunk of volume right there, and to what some would argue is still a niche concept – staking.
If there's one stat that highlights the crypto world taking the trad-fi world to battle, it's this – pulling fiat savers away into staking products to sweep up that sweet extra APY.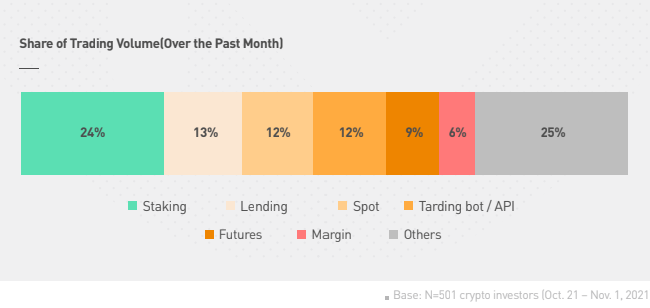 Overall, this is a cool study with some interesting findings, but none more so than that staking result. I'll be keeping an eye on KuCoin's other reports going forward.
In the meantime, Germany – I may have to pay you a visit.
P.S. I never got into the infamous Berghain nightclub when I was in Berlin, so I have unfinished business in Germany. With Elon Musk apparently not getting in either this weekend, perhaps the two of us can go together? Hey @KuCoin, I can conduct a staking poll on the dancefloor and put it down as a business trip, if you're willing to pay?