JPMorgan believes BTC is undervalued currently, should you buy ?
Cryptocurrencies have fallen dramatically in 2022, as some investors are abandoning riskier investments. 

The American banking giant, JPMorgan, believes that Bitcoin (BTC) is undervalued.

Their research team has estimated that the fair price of the world's largest cryptocurrency currently stands at $38,000.
Bitcoin (BTC) is one of the largest cryptocurrencies in terms of market capitalization, and even though cryptocurrencies have dramatically fallen in terms of value, it is still in the top spot.
However, despite this crypto slump currently happening, the banking giant JPMorgan has claimed that the cryptocurrency is massively undervalued.
JPMorgan's valuation of Bitcoin as a catalyst for growth
On February 9, 2022, JPMorgan originally estimated Bitcoin's "Fair Value" at $38,000 when the cryptocurrency was trading at $43,400.
However, the bank has maintained its estimate of the value of Bitcoin, even at its current price point under the $30,000 range. 
This implies a significant upside from here after the dramatic sell-off in cryptocurrencies that occurred. 
The bank also noted that cryptocurrencies had overtaken real estate as one of the preferred alternative assets, which are ones that do not fall within the typical categories, such as stocks and bonds.
Billionaire Bill Miller also called for Bitcoin "insurance" against financial catastrophe during a recent episode of the "Richer, Wiser, Happier" podcast.
Miller is the chief investment officer of the investment firm Miller Value Partners and said that he considers Bitcoin (BTC) as an "insurance policy against financial catastrophe."
With this optimistic outlook about the value of the Bitcoin (BTC) cryptocurrency from the perspective of one of the largest banks in America, a lot of people have been curious about how far the value of the token will climb throughout the next month.
Should you buy Bitcoin (BTC)?
On May 27, 2022, Bitcoin (BTC) had a value of $29,028.20.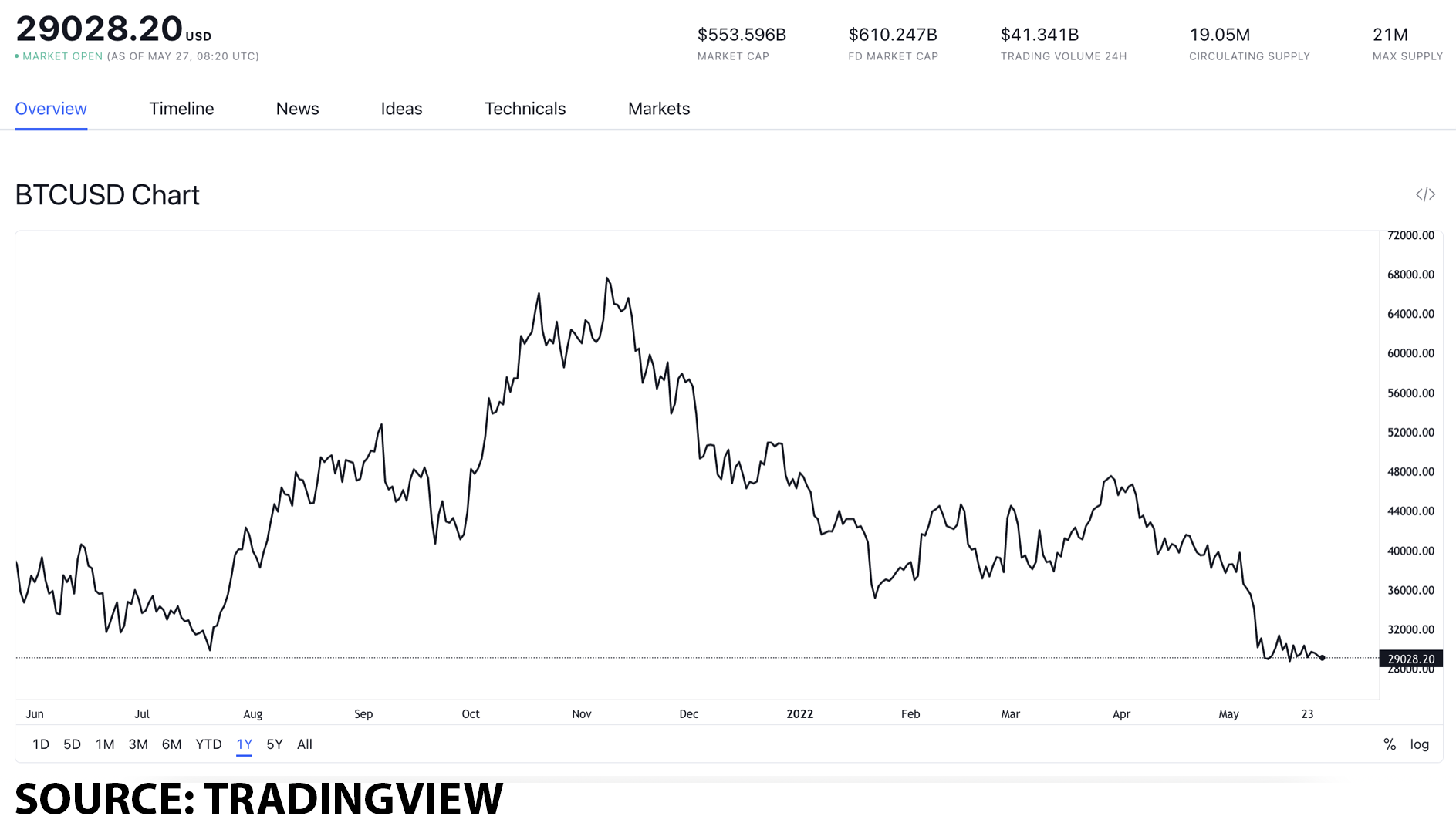 In order for us to get a better perspective as to what kind of value point this is for the Bitcoin (BTC) cryptocurrency, we will be going over the token's all-time high point of value, as well as its performance throughout the previous month.
When we take a look at the token's all-time high value, Bitcoin (BTC) had its ATH on November 10, 2021, when the token reached a value of $69,044.77. 
Going over the performance of the token throughout the previous month, Bitcoin (BTC) saw its highest point of value on April 2, when the token was worth $47,003.43.
The lowest point was on April 26, 2022, when the token decreased in value to $38,084.54. This marked a decrease in value of $8,918.89 or 19%. 
When we take all of this into consideration, Bitcoin (BTC) can reach a value of $32,000 by the end of June 2022, making it a solid cryptocurrency to get into at its current price point.