Is BTC worth buying after over 1
Bitcoin is carrying on to trade narrowly after a nine-week extended sell-off period.

Over $1.5 billion worth of Bitcoin has left exchanges as whales are accumulating it.

50,000 BTC coins have been withdrawn from cryptocurrency exchanges at around the $30,000 price.
Bitcoin (BTC) is one of the largest cryptocurrencies in terms of market capitalization, and even though it has recently had a bearish outlook, there have been ups and downs surrounding the coin's overall value.
Being one of the oldest cryptocurrencies within the crypto sphere, it has cemented itself as the go-to cryptocurrency in the eyes and minds of many investors. 
However, this has not stopped many whales from accumulating the coin, and this could spell good news for the future of BTC.
The whale accumulation as a catalyst for growth
According to data from Santiment, over 50,000 Bitcoin (BTC) have been withdrawn from cryptocurrency exchanges throughout the previous weeks, as the price of the coin has been hovering around the $30,000 price point. 
Percentage-wise, the Bitcoin supply that is sitting on exchanges is down 9.9%, and the exchange supply has not been this low in 3.5 years. 
Mega whale addresses have been accumulating along this area at a rate that is unprecedented. 
Specifically, these whales gained their highest supply of BTC in a year, which gives us a promising outlook for the future of BTC.
Bitcoin HODLers also appear to be growing their BTC portfolios, as the wallet growth for investors holding under 100 BTC is growing significantly. 
Should you buy Bitcoin (BTC)?
On June 9, 2022, Bitcoin (BTC) had a value of $30,416.07.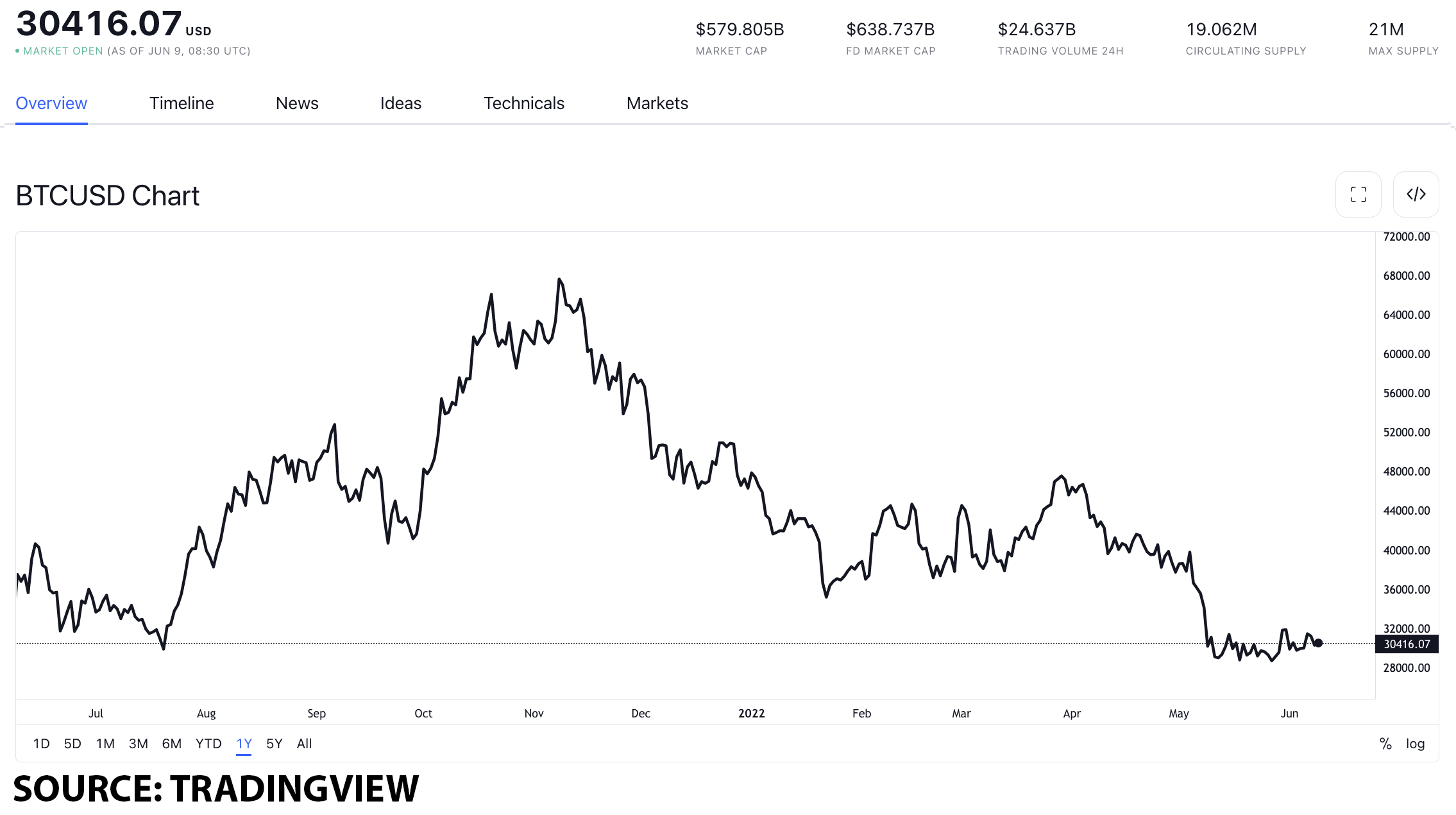 In order for us to see what this value point indicates for the value as well as the overall future of the BTC crypto, we will be going over its all-time high point in terms of value and then look at its performance in May.
The all-time high of the Bitcoin (BTC) cryptocurrency was on November 10, 2021, when the coin reached a value of $69,044.77.
When we take a look at its performance throughout the previous month, Bitcoin (BTC) had its highest point of value on May 4 at $39,820.49. Its lowest point of value, however, was on May 12 at $26,759.85.
Here we can see that the cryptocurrency decreased in value by $13,060.64 or by 32%.
With all of this in mind, it is clear that there is a lot of confidence that the coin can eventually increase in value due to the vast accumulation of crypto by whales and HODLers.
However, based on its historical data, we can expect Bitcoin (BTC) to reach $32,000 by the end of June 2022 specifically.