Bitcoin's variable price points and how it can move forward
FTX's founder Sam Bankman-Fried said Bitcoin has no future as a payments network

Bitcoin recorded its longest bearish streak since 2015

Bitcoin fell with US Futures as China data hurt risk sentiment
Bitcoin (BTC) is the largest cryptocurrency in terms of market capitalization and, as such, has been the go-to cryptocurrency when it comes to market analysis.
Its impact on the overall crypto space cannot be understated, and if it goes up or down in value, typically, this is a trend that gets followed by the entire crypto space.
However, Bitcoin has recorded its longest bearish streak since 2015, and this has investors worried.
To see what all of this means, we will be going over some of the most recent updates regarding the Bitcoin (BTC) cryptocurrency.
Bearish price movement and decrease to $29K
FTX's founder Sam Bankman-Fried said that Bitcoin does not have a future as a payments network. Specifically, the founder criticized the digital currency for its inefficiency, as well as high environmental costs. 
A selloff in cryptocurrencies accelerated as bitcoin dropped under $30,000. Other tokens, such as Ether (ETH) and Avalanche (AVAX), were on the back foot as well. 
S&P 050 Futures were in the red as well, after the Chinese figures pointed to economic contraction.
Alongside this, Bitcoin has recorded its longest bearish streak since early 2015. According to a tweet by Cryptowatch, Bitcoin is likely to print its seventh consecutive red weekly handle. 
The last time that this occurred was in January 2015, when BTC was trading at $220.
However, the anonymous market analyst, IncomeSharks, noted that Bitcoin might print a green handle due to the massive selloff volume which was recorded throughout the previous week.
Should you buy Bitcoin (BTC)?
On May 16, 2022, Bitcoin (BTC) had a value of $29,601.17.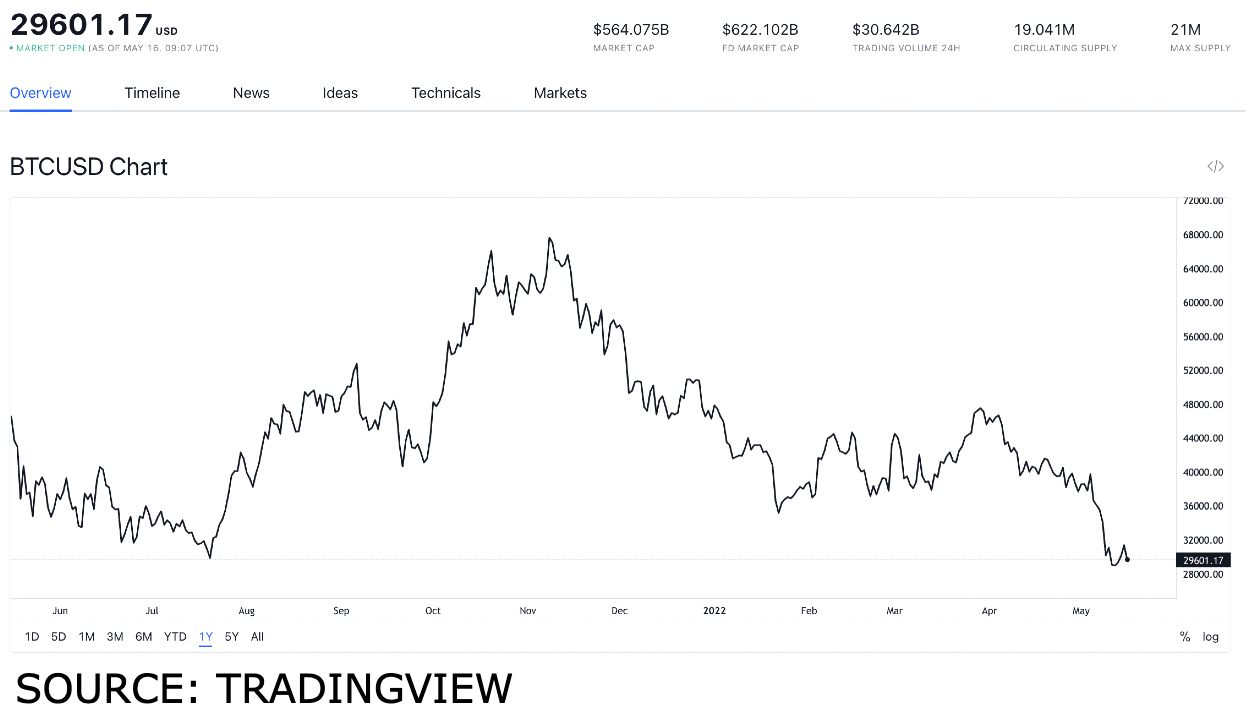 In order for us to truly see what this value point indicates for the value of the BTC cryptocurrency, as well as its future price movements, we will be going over its ATH point of value, alongside its performance throughout last month.
When we take a look at the all-time high point of value of Bitcoin (BTC), we can see that it was on November 10, 2021, when the crypto reached a value of $69,044.77. This means that at its ATH, the crypto was $39,443.6 higher in value, or by 133%.
When we go over its performance in April, its highest point was on April 2, when the crypto had a value of $47,003.43. Its lowest point was on April 26, 2022, when BTC was at $38,084.54. This was a decrease of $8,918.89 or 19%.
With this in mind, we can expect Bitcoin (BTC) to climb to a value of $32,000 by the end of May 2022, making it a solid token to look at, assuming it breaks the $30,000 price barrier. However, if BTC dips under $27,000, it might be worth reconsidering.