Bitcoin's hovering around the 20K value, can it go any
Bitcoin's value saw an increase of 2% in the last 24 hours, with an increase in its volume by 3%.

Michael Saylor of MicroStrategy said that a person needs 100 hours of studying to understand Bitcoin.

Citibank announced that it would develop Bitcoin Custody Services.
Bitcoin (BTC) is by far the largest cryptocurrency in terms of market capitalization, and this is still the case despite the recent "crypto winter."
There have been numerous discussions surrounding this cryptocurrency, as well as its overall potential future, and as such, we are going to look into each of these updates individually.
Michael Saylor's comments and Citibank's Bitcoin custody services platform as catalysts for growth
The CEO of MicroStrategy Inc., Michael Saylor, said that the average person needs 100 hours of dedicated learning to get a deep understanding of how the Bitcoin network actually works and why it is unique.
According to Saylor, "It is 100 times bigger than the next substitute of the next competitor.".
This bold declaration was made whilst answering questions from a Fox Business journalist on June 21, 2022.
Alongside that, Citibank, which is a major global banking institution, revealed that they had hired Switzerland-headquartered crypto custody firm Metaco with the main goal of establishing a digital asset custody platform.
This collaboration will put focus on tokenized securities, which are representations of stocks and bonds, which are transferred and settled through the utilization of blockchain technology.
Should you buy Bitcoin (BTC)?
On June 23, 2022, Bitcoin (BTC) had a value of $20.717.98.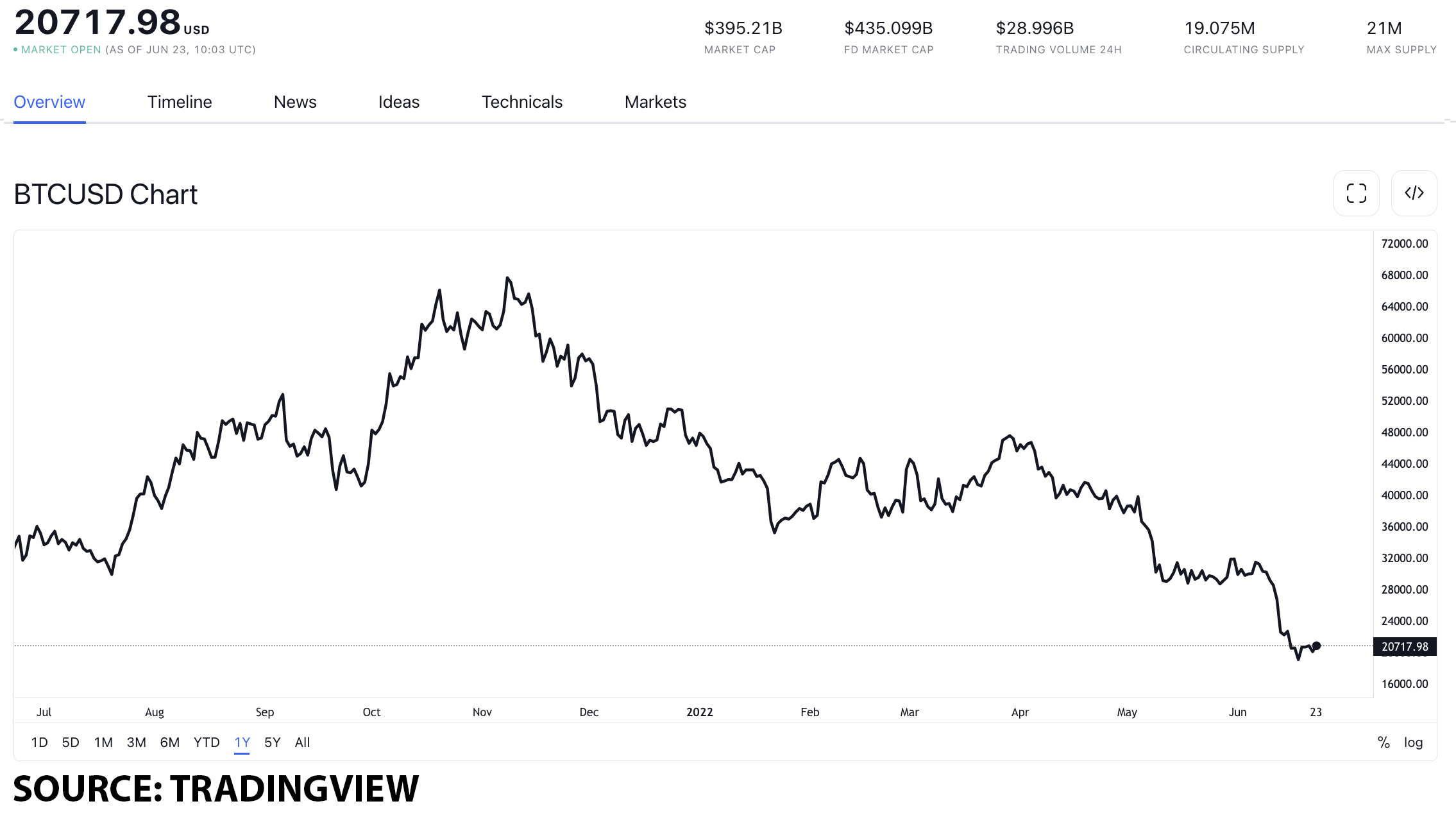 In order for us to get a better perspective as to what kind of value point this is for the Bitcoin (BTC) cryptocurrency, we will be going over its all-time high point of value, as well as its performance throughout the previous month.
When we take a look at the all-time high of the cryptocurrency, Bitcoin (BTC) reached a value of $69,044.77 on November 10, 2021.
However, when we take a look at the performance throughout the previous month, Bitcoin had its highest point of value on May 4 at $39,820.49.
Then, the lowest point it got was on May 12, when it saw a value of  $26,759.85.
This signaled a decrease in value of  $13,060.64 or by 32%.
Based on this, Bitcoin (BTC) can reach a value of $24,000 by the end of July 2022 if it breaks past the $21,000 price barrier.