Bitcoin dips to $24K, can the token recover anytime soon?
Blockware's report predicts that Bitcoin adoption should exceed 1B users by 2030

Billionaire Stanley Druckenmiller says he'd rather own Bitcoin as the recession beckons.

Grayscale CEO said pension funds are looking to add Bitcoin
Bitcoin (BTC) has been the most-watched cryptocurrency both due to its market capitalization as well as due to its widespread adoption.
In fact, there have literally been hundreds of companies that are implementing Bitcoin in their offering, and this could potentially increase the value of the token in the future.
However, Bitcoin has recently dipped to the $24K price range.
Bitcoin's decrease to $24K and its potential future
On June 13, Bitcoin (BTC) decreased to a value of $24,127.97.
This makes it one of the lowest points of value the cryptocurrency has decreased to throughout the past few months.
However, there are still positive things surrounding BTC.
Specifically, Blockware Solutions, the blockchain infrastructure and Bitcoin mining firm, released a report that analyzed the pace of the adoption of BTC.
The firm's analysts say that Bitcoin's adoption will reach 1 billion users by 2013. 
Furthermore, the American billionaire investor Stanley Druckenmiller warned that the U.S. economy would slip into recession throughout the next year and said that he would rather own more Bitcoin (BTC) than gold due to the rising inflation.
In an interview with Stripe co-founder John Collison, Druckenmiller also said that we are six months into a bear market, and it is highly probable that the bear market has ways to run.
Grayscale CEO Michael Sonnenshein also said that pension funds are considering adding Bitcoin (BTC) as an asset class as a means of diversifying their portfolio.
During a CNBC interview on June 10, Sonnenshein said that the crypto market decline had not affected the interest shown in cryptocurrencies.
With all of these updates in mind, there is a question in investors' minds if Bitcoin can indeed get back up in value anytime soon.
Should you buy Bitcoin (BTC)?
On June 13, Bitcoin (BTC) had a value of $24,127.97.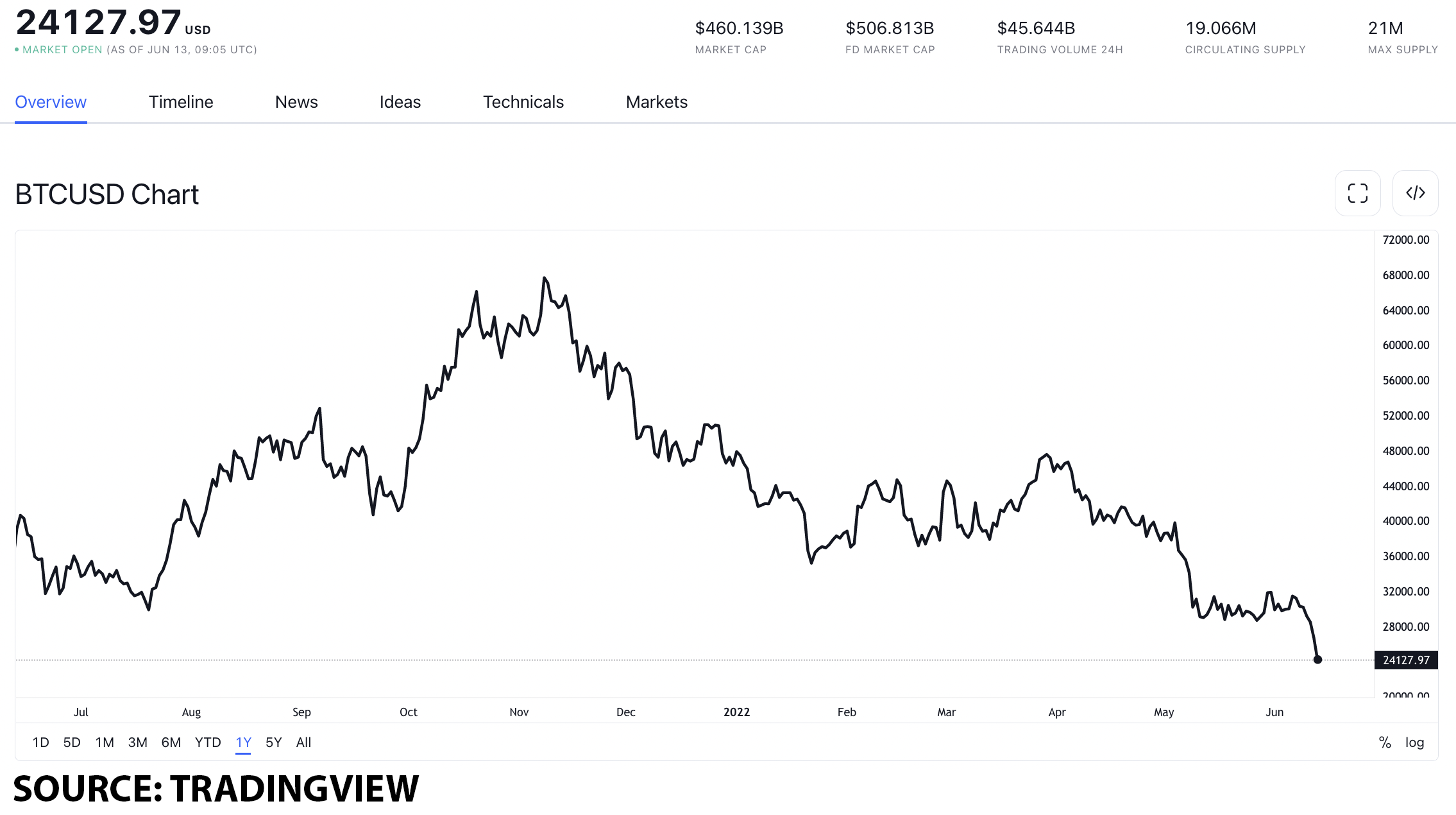 To get a better perspective as to what kind of value point this is for the BTC cryptocurrency, we will be going over its all-time high point of value, as well as its performance throughout the previous month.
Bitcoin (BTC) had its all-time high on November 10, 2021, when it reached a value of $69,044.77.
When we go over the performance of the token throughout the previous month, Bitcoin had its highest point of value on May 4 at $39,820.49.
Its lowest point of value, however, was on May 12, when the token decreased to $26,759.85.
Here, we can see that the cryptocurrency saw a decrease in value by $13,060.64 or by 32%.
Then on May 16, the crypto increased back up in value to $31,305.11, which showcased that it could pull back in value.
However, from May 12 to June 13, the Bitcoin cryptocurrency saw an additional decrease of $2,631.88 or 10%.
If Bitcoin is as volatile as it historically was, we can see the cryptocurrency reach $28,000 by the end of June 2022. 
However, if it decreases under $24,000, we might see a further decline to $20,000, and investors should be careful.