Bitcoin ( BTC ) is worth buying on March 29
Dubai School to accept Tuition Fees payment in Bitcoin (BTC).

Mastercard partnered with Australia's BTC markets for payment options.

Climate activist groups are launching a "Change the Code, not the Climate" Campaign. 
Bitcoin (BTC) has seen a lot of headline attention recently, especially since now, more than ever before, there is a push for mainstream adoption of cryptocurrencies.
Due to the fact that Bitcoin is the largest crypto in terms of market capitalization, it is typically the one being implemented first across all of these changes.
As such, each future development could lead to an increase in the appeal, as well as value surrounding BTC.
Bitcoin's adoption as a catalyst for growth
There have been several climate activist groups, one of which includes Greenpeace, that, alongside billionaire Chris Larsen, are aiming to launch a "Change the Code, not the Climate" campaign. 
This campaign would be specifically designed to pressure the Bitcoin community to change the way it orders transactions that already "consume as much power as Sweden." 
Furthermore, the Australian crypto exchange, BTC Markets, has conducted a partnership with Mastercard as a means of allowing its customers to make direct debit, prepaid, or credit card payments to purchase cryptocurrencies through the utilization of the platform. 
Following the growing adoption of cryptocurrencies, a new school in Dubai also disclosed its plans towards accepting a nascent asset class as a mode of payment for tuition fees. 
According to a local report, the new educational institution, known as Citizens School, will allow parents and guardians to pay tuition fees for their wards in Bitcoin (BTC) and Ethereum (ETH).
Should you buy Bitcoin (BTC)?
On March 29, 2022, Bitcoin (BTC) had a value of $47,754.19.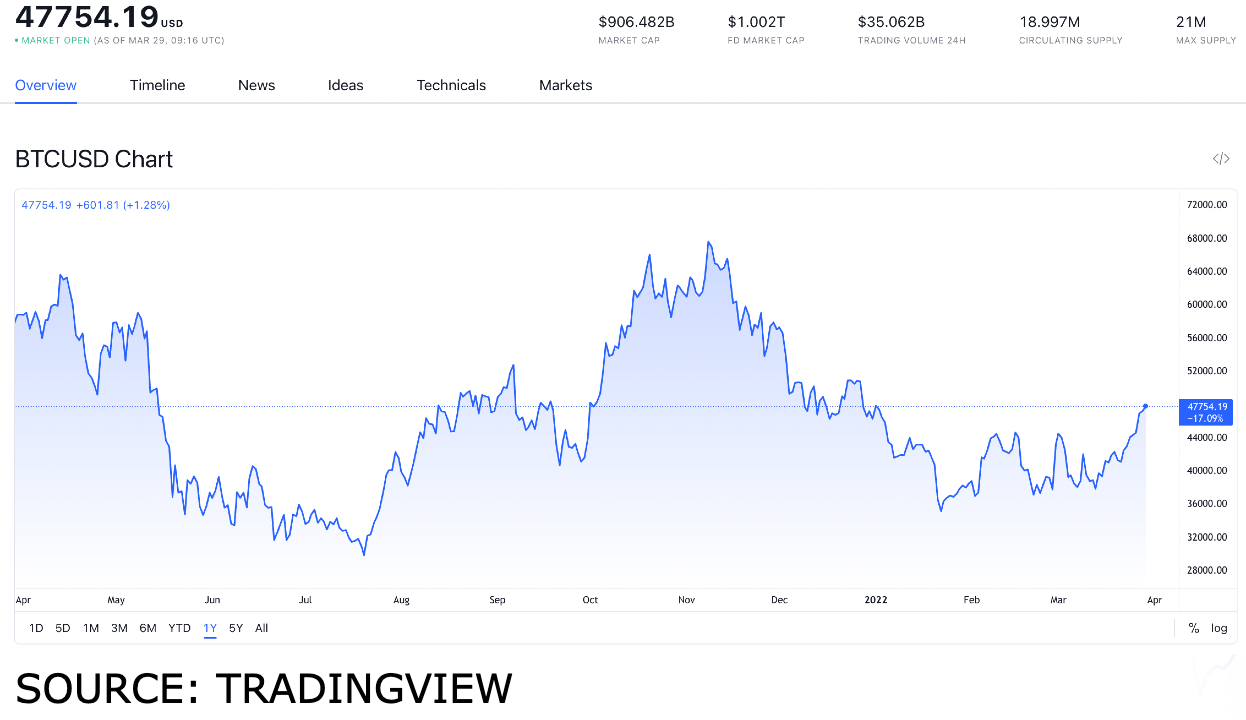 In order for us to get a better perspective as to what kind of value point this is for the BTC cryptocurrency token, we will be going over its all-time high point of value, alongside the performance the token showcased throughout the previous month. 
The all-time high point of value of the Bitcoin (BTC) cryptocurrency token was on November 10, 2021, when the token reached a value of $69,044.77. Here, we can see that at its ATH, the token was $21,290.58 higher in value, or by 44%.
When we go over the performance of the token throughout the previous month, Bitcoin (BTC) had its highest point of value on February 10, when it reached $45,387.26 in value.
The token's lowest point of value, however, was on February 24, when it decreased in value to $34.750.15. This means that the token decreased in value by $10,637.11.
However, since then, the token has increased in value by $13,004.04 or by 37%.
With this in mind, we can expect the Bitcoin (BTC) cryptocurrency to reach $50,000 by the end of April 2022.